Best Online Bachelor's Degrees in Education in 2020
When choosing a program for your bachelor's degree in education, consider earning your degree online. Many well-regarded schools offer fully online learning, which can be beneficial if you need flexibility in your life for work schedules, military deployment, family caregiving, personal health, or other reasons. Note that some programs listed below, even from accredited institutions, offer degrees that do not lead to teaching licensure. If classroom teaching is your goal, be sure to contact your program of interest directly to understand what your options would be as a graduate.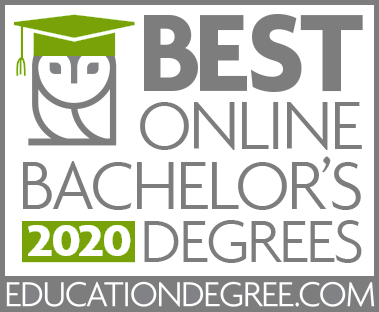 Learn more about how we found and ranked schools.
* Indicates that multiple schools tied for these ranks.
How We Ranked the Best Online Bachelor's Degree Programs in Education
There are so many school rankings out there. How you can tell which ranking is the most accurate? Our team at EducationDegree.com didn't want you to have to choose and wade through them on your own. The insight: combining multiple rankings' data gives you the wisdom of crowds.
We went through the following steps to come up with the EducationDegree.com ranking:
Searched for and compiled rankings lists from other web publishers' source rankings, throwing out rankings that were obviously outdated (more than two years old) or low-quality, or had such narrow criteria that they could not be combined with other published rankings.
Ranked the resulting education programs in order of most mentions on source rankings to least mentions, where programs that were mentioned the same number of times were ranked in order of average rank on those source rankings.
Researched each program to ensure that they still meet the criteria for inclusion on a list of baccalaureate (bachelor's) degree-granting programs offering the bulk or all of their learning online.
Our source rankings for this list were Affordable Colleges Online, Best Colleges, and Guide to Online Schools. Data compiled from June 2020.