2023 – Top Picks for the Very Best Teacher Certification Bachelor's in Education Programs in the Mountain Region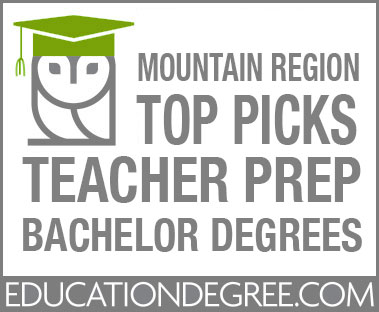 Getting the ball rolling with your bachelor's-level Initial Teacher Preparation (ITP) program comes with its fair share of pressure. A lot of things are going to come out of that five or so years of intensive training and preparation… general knowledge, teaching philosophy, real-world practice in a student teaching classroom, and the kind of content area knowledge you'll need to earn your teaching license and primary endorsement.
Equally important will be the people you meet. You'll make fast friends as you go through all that training together, seeing the same excited faces in different classes over the years. And you'll learn from experienced professors and experts in the field, working with them on research projects and when you pay them a visit for a little extra help during office hours or after class. You'll get to know teachers and administrators in the districts where you do your student teaching, and may even get a chance to work with them again when you get started in your career.
That handful of years you spend preparing to become a teacher is going to shape your career, so you absolutely can't short-change yourself by picking anything less than the very best school you can find.
And because all those people you meet help to form your professional network and effect your prospects and career path, you probably want that school located as close as possible to where you plan to start your teaching career– right here, somewhere in the Mountain West… And hey, why would you ever want to live, work and go to school anywhere else?
From the wild northern Rockies and the high plains of Montana and Wyoming to the cityscapes of Denver and Phoenix, you can find it all here in the American West. It's a place where community is key and education has value – from high-tech startups in the Front Range Urban Corridor to agribusiness in Eastern Montana. Being from here means something… and being able to call one of the great school's out here your alma mater and wear that pac-12 team gear with a whole other level of pride is all part of what it means to call this place home.
So we have put together the top bachelor's in education teacher certification programs in the Mountain region all in one place. Learning your trade at the best school, from the best teachers, will take your career to exactly where you want it to go—and one of these schools is the place to get that journey started.
How We Decided on the Top Teacher Certification Bachelor's in Education Degree Programs in the Mountain Region
It's not easy picking out the best programs with the broad variety of schools we have here in the Mountain West. Our schools aren't the biggest in the country, but you still find a tremendously diverse array of expertise and specialty across the board, which doesn't make it any easier to pick out the very best.
It all came down to putting ourselves in the shoes of prospective students, remembering what it was like all those years ago when a bachelor's and student teaching was still on the horizon. So our decision-making process doesn't rely on some cold calculation of metrics, but instead we give weight to the exact criteria we know really mean something to new undergrads, and that have a real effect on the student experience and outcomes even after graduation.
Top Talent on the Faculty
If you are going into teaching, then you absolutely agree with our primary criteria: great programs are made from great teachers. Up-to-date, cutting-edge curriculum? High-tech, brand-new facilities? Amazing overseas learning experiences? None of it matters if you're not being lead through it by professors who have a strong command of the material, a real sense of empathy, and communications and presentation skills that bring it all together.
As you know, this isn't just a matter of luck or talent. Great instructors are made, not born, so we looked for schools that prioritize hiring professors who have both years of classroom experience as well as strong research and academic credentials. They've had the time to absorb the subject-specific knowledge that their expertise is built on, plus the practical experience that comes with delivering it to students for years. They are typically widely published and frequent presenters at conferences… with all the regional connections to help you get your bearings and make the right contacts at area districts.
Consistent Track Record of Academic Excellence
Obviously a program in education should be held to the highest of academic standards. Curriculum should be comprehensive and up-to-date in the way it covers the content you'll be teaching, give you some exposure to cutting-edge research and the latest pedagogical developments in the field, and all put together in a way that prepares you to reach every student with diverse learning styles. The schools we chose have strong processes for establishing their curriculum and a history of respected research projects that contribute new knowledge and insights to the teaching profession nationwide.
Although we did not make specialty accreditation with CAEP (Council for the Accreditation of Educator Preparation) a requirement for the programs we included here, we did note whether or not a school had gone through the rigorous process and gave some weight to it in making our selections. CAEP accreditation is not required but it is a sign that a school is serious about self-improvement and meeting the highest standards in teacher preparation.
Retention and graduation rates also speak to a school's dedication to students, and those are other considerations we used in building this list. A good program inspires students to stay and works with them to get them over the graduation goal line, and beyond… so high numbers in either of those categories got high marks from us.
Diverse Student Teaching Experiences that Mirror the Real World
Real classrooms out in the real world are the pedal meets the metal of the teaching education experience, so we picked schools that put together a diverse array of student teaching opportunities that line up with the content areas they offer and the many different kinds of classroom experiences that you might encounter in the diverse school districts found in the Mountain region, from the metros of Phoenix, Denver and Boise to the small rural communities of the High Plains and Western Slope. Those districts can run the gamut from multicultural inner city locales to farming communities miles away from the city lights.
The types of classrooms and students you get a chance to work with are also important in providing you the kind of diverse experiences you'll need to handle anything over the years of your career, from special needs students to English language learners. Not only do diverse student teaching experiences allow you to build your skills with different kinds of students and material, they also allow you to find the kind of teaching experience that leaves you feeling fulfilled and accomplished… helping you settle your plans for a future career where you look forward to going to work every day.
An Excellent Reputation on The National Stage
We put a lot of work into building out this list of schools, but we're just one website… you are perfectly justified in wondering about whether or not it's worth relying on a single source of information for such a big decision.
But you're not really just relying on our opinion here, because we've taken the trouble to locate other independent third-party perspectives on each of these schools and incorporate their views, too. That means all of these colleges have been getting high marks from independent evaluators like The Princeton Review and U.S. News & World Report, as well as scholastic organizations like the Carnegie Foundation.
We also consider the regional reputation… are these schools sending a lot of graduates on to local schools? Are those graduates then rising up into the administrative ranks or other influential roles? Getting noticed on the national stage with recognition for their research efforts and innovative teaching approaches? These are all things that prospective students would be wise to look at—so we give them weight in our own evaluation.
Unique Opportunities and Experiences on Tap For Students
Finally, we looked for schools that have that little something extra in their teacher certification programs, that factor that you would never have thought to put on your list of things to look for, but really seals the deal once you see it. That can range from a great campus environment to a unique concentration area that no one else specializes in, to the graduate programs the school offers to fulfill advancement later in your career.
We also found programs that offer international experiences, placing you overseas for a semester or putting together a summer trip to give you a wider range of perspectives than you'd ever find just sticking around the local neighborhood. In the same vein, we gave higher marks to schools that host conferences or summits that bring in researchers and educators from all over to mix and exchange information.
Our Top Picks for the Best Mountain Region Teaching Certificate Bachelor's in Education Programs for 2023
We've also dropped a lot of other information into this list that we didn't necessarily use to establish eligibility, but that you will probably want to consider as you think about where to apply. This collection of programs is ultimately put together to help make your decision-making process easier, and that means including some of those important details that don't necessarily reflect the quality of a program so much as the practical aspects you need to know when making your choice, things like tuition rates, content areas and concentrations, and delivery options. Not every school will be the perfect fit for your individual goals, but we are confident at least one of them will be!
Arizona
Colorado
Idaho
Montana
New Mexico
Nevada
Utah