2023: Top 40 Bachelor's Degrees in Education Teacher Certification Programs in the West North Central United States
Top Picks for the 40 Best Bachelor's in Education Leading to Teacher Certification in North Dakota, South Dakota, Minnesota, Nebraska, Iowa, Kansas and Missouri.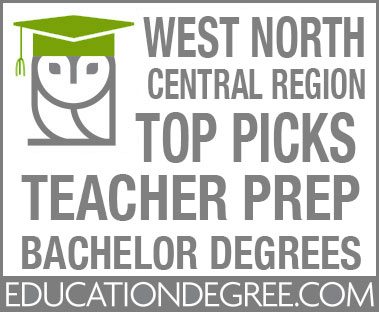 Midwestern values run strong in the West North Central United States. Defined as North Dakota, South Dakota, Minnesota, Nebraska, Iowa, Kansas, and Missouri, you find a lot of diversity of both terrain and community here, but those values stand everywhere. Some of the earliest organized public school districts were put together here in the mid-1800s, and our community continues to stay active and involved in getting kids the best education possible.
That means picking great teachers. Teachers who have an excellent education themselves. The kind of training and experience needed to live up to the high expectations of the community.
If you're from around here, or just plan to work somewhere in the West North Central part of the country, you'd better get ready. Preparing for a career in education here is serious business, and it all starts with picking the right bachelor's degree for initial teacher training.
There is no shortage of great schools around here, and that's a fact that can make it all the more difficult to identify the ones that are objectively the best. But that's exactly what we're here for.
We've taken the time to go through every single one of the schools in the region offering bachelor's degree that include the additional course sequence and student teaching experiences required to earn teacher certification in your state. These are often referred to as ITP (Initial Teacher Preparation) bachelor's programs. By any name, we feel confident calling these programs the very best in the West North Central U.S.
A Lot of Tough Decision Go Into Picking Top ITP Programs
Turns out there are a lot of really excellent teaching colleges here in the Midwest. We found 158 regionally-accredited schools in these 7 states that offer ITP programs. That makes the job of picking the very best a pretty tough one. Besides that, a lot of folks have different ideas about what exactly makes a program worthy of being called the best. You have to make sure you're on the same page when it comes to the qualities and benefits being weighed.
At the end of it all, these programs were picked based on our own analysis, which gave weight to the things we have come to believe mean the most to student teachers, and the school districts that hire them after graduation. Even though selections of this kind aren't exactly based on hard science, we always strive for total objectivity. It takes a human touch to pull out the kind of insights that give you a real sense of which programs are best based on the qualitative criteria we looked at.
To us, a top program brings together all the following qualities in one package.
Excellence in Instruction Leads to Excellence in Education
Since you are already planning on becoming a teacher, we don't have to sell you on how important good teachers are. That's as true at the college level as it is in K-12. So, first and foremost, what we looked for in these schools was excellent instructors.
Your professors are all mostly working off the same materials so the real difference is how well they present it. We picked programs where professors have the empathy and the flexibility to reach any student, through any learning style. They get the core concepts across and make it all click, just like you want to do with your own students. They serve as examples as well as educators.
That's because they've been drawn from the ranks of the best teachers, working in the very same communities they are preparing their students to teach in. After years of experience doing exactly what you plan to do with your career, they have gone on and earned advanced degrees themselves, often doctorates in the field. Along the way, they've established strong research credentials and have had their work published.
Open a few copies of Academic Exchange Quarterly or The Harvard Educational Review and you'll find their names. That's the kind of standard you need to look for in the instructors who will be preparing you for your teaching career – and each of these schools hits that mark.
Top Academic Marks From The Community
Those aren't the only high marks they get. All of these schools also commands respect and attention in the education community as a whole. We didn't make our choices in a vacuum. Instead, we looked for programs that have also been recognized by other third-party evaluators like The Economist and U.S. News & World Report.
When you are really good, you get noticed. And these schools have all definitely been noticed. In many cases, the programs have also received specialty accreditation in teacher education from the Council for the Accreditation of Educator Preparation (CAEP), or one of the other specialty accreditors that preceded it – NCATE and TEAC. That kind of rigorous examination leaves no stone unturned. Everything from curriculum development to grading standards is assessed and weighed against the highest quality benchmarks in the field.
You can also see this in graduation and placement rates. Teachers trained by these schools are in-demand, and when most of them land jobs within six months of graduation, you know there is a good reason for that.
Diverse Real World Student Teaching Experiences
One of the hallmarks of American teacher training is genuine classroom experience, and lots of it. But all that student teaching has limited value if it's Groundhog Day every time. The best teachers come at the profession from a wide base of diverse classroom experience. There's no one-size-fits-all in education, and there is nowhere it is more important to learn that than in actual classrooms out in the real world.
Student teaching should be about getting you that wide range of expertise while you are still under the watchful eyes of your instructors, not floundering around in your own classroom. So we tried to pick out programs that give you a lot of different kinds of student teaching experiences. That includes both diverse grades and subjects as well as different types of schools. The Midwest has a lot of small town schools, it's true, but these states also have some major urban areas with all the same tough teaching challenges as any city in the country.
You'll get the chances to apply your experience and techniques with different kinds of students with different types of materials. The more you see, the better you are equipped to handle your own classroom after graduation. And these programs give you the full range.
Unique Academic and Experiential Training
One of the things that is hardest to judge about any ITP program are all the little extras that can really make it perfect for you. It's pretty easy to look at all the big things, like graduation rates, instructor qualifications, and program accreditation. It's not as easy to pull out the little gems that really set schools apart.
That can be everything from a special concentration area in a subject that you can't find anywhere else in the region, to a unique overseas placement experience that lets you learn from how other countries handle education. Maybe it's a research program that is investigating some pedagogical theory you are most interested in. Or maybe you're looking for a perfect hybrid program, one that offers just the right combination of online and traditional in-person classes to fit your lifestyle.
Put all those things together and what you get is the fact that different programs can be the perfect fit for different people. But the more options, the more expertise, the more flexibility you find in any given school, the better your chances are of finding the right fit.
So we looked for schools that are out there trying new things, offering exciting experiences that you won't find anywhere else. You might not even know what that thing is until you see it highlighted here. But you will know it when you see it.
Along the way, we've picked out and put up all the standard things anyone needs to know when picking a school – from educational format and concentrations available to per-credit tuition costs and specialty accreditation status.
And of course you get a link right to the website of each school in question… no funny business or jumping through any hoops. We're here to help!
2023: Top Picks for the 40 Best Bachelor's in Education Leading to Teacher Certification in North Dakota, South Dakota, Minnesota, Nebraska, Iowa, Kansas and Missouri
One way or another, we're sure this list of our favorite teacher certification bachelor's programs in the West North Central U.S. (North Dakota, South Dakota, Minnesota, Nebraska, Iowa, Kansas, and Missouri) is going to help you in your search. Even if you end up deciding on a program that didn't end up on this list, we're confident this resource will leave you better informed about what to look for and better prepared to make your final decision.
North Dakota
South Dakota
Nebraska
Kansas
Minnesota
Iowa
Missouri