2023: Top 35 Best Initial Teacher Certification Bachelor's Degrees in Education in the West South Central Region (TOLA States)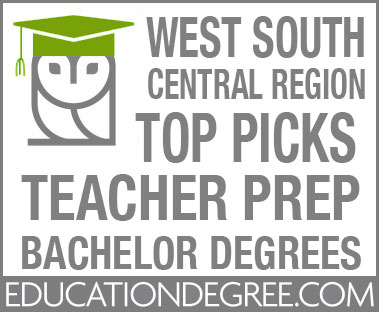 Folks in the TOLA (Texas, Oklahoma, Louisiana, and Arkansas) region already take it as gospel that it's just about the best place to live in these United States. Amazing job opportunities in tech, aerospace, and energy… and a cultural landscape that includes everything from the Live Music Capital of the World to the Greatest Free Show on Earth. This place has it all.
But like so much of the rest of the country, one thing we are short on here are good teachers. The TOLA states aren't at the very bottom of educational attainment in the United States, but they are all hanging on at some of the lower rungs of that ladder. 2021 statistics from World Population Review show that only Oklahoma escapes the bottom ten states in high school graduation statistics; similarly, Texas is the only one in the region that doesn't fall near the bottom of the list in terms of college attainment.
There's only one way up that ladder: better teachers, and more of them. And based on the fact that you're reading this, it's a good bet you are already on your way to contributing to the solution. But, of course, it isn't just about upping the numbers; it's about being the kind of teacher who inspires and lifts your students and your community to the next level.
You don't get that way by accident. Great teachers learn from great teachers—which means you need to narrow down your search for ITP programs to only the very best you can find around here.
That's why we have put together this list of the top bachelor's-level initial teacher prep programs across the TOLA states. You can find a great school that is close to home and has exactly the coursework you need, not only to get fully licensed, but also to give you the best possible foundation for excellence in a field where it is desperately needed.
The Tough Process of Picking The Top Bachelor's in Education ITP Programs in the West South Central Region
As you know if you live in these parts, the TOLA states cover a lot of territory, with states bigger than a lot of European countries. For a four-state region, there is a lot of variety in the schools around here … we went through more than 130 accredited institutions to come up with this handful of top programs, and it wasn't easy to narrow them down.
So what made the difference? What separates a top teaching certificate program from the also-rans? We think it comes down to these big things:
Great Teachers Learn From Great Teachers—So We Picked Schools With the Best Instructors
You know better than anyone how much of a difference the person at the front of the room can make to the learning experience. After all, you're signing up to be that person! The power of a smart, empathetic, accomplished teacher to change the course of their students' lives is something that your entire career choice is based on.
We agree, and that's why we looked first and foremost for schools that have only the very best instructors. That means professors who have a strong academic background, with years of experience under their belt, and not just in colleges… you want instructors who have spent their time teaching at the same grade level you plan to teach, out in the trenches at elementary and high schools in your community. They know exactly where you are heading and exactly how to prepare you for that experience.
They also have serious research skills and strong publication histories in industry journals, advancing leading thoughts in modern pedagogy on the national and international stage. Under their guidance and with their assistance, you'll get more out of your program than you imagined possible.
Academic Excellence Drives High Standards At Each of These Schools
It should go without saying that any program that is teaching about teaching should hit the highest of academic standards. We looked for schools where strong curriculum standards offer a comprehensive approach to the subjects being taught, with both a solid grounding in modern research and practice and a hearty helping of the latest theoretical studies in the field.
One thing that leaned in a school's favor in our evaluation was specialty accreditation, either from CAEP, the Council for the Accreditation of Educator Preparation, or one of its predecessors in the field, NCATE and TEAC. The rigorous evaluation that those Department of Education-approved specialty accreditors put programs through helps validate both academic and administrative standards, and ensures that each school is committed not only to the best education in modern teaching available today, but also just as committed to continuous self-improvement so that your classes next year will be up-to-date as the field evolves.
Practice Makes Perfect, and Student Teaching Opportunities Distinguish the Top Schools
As valuable as all the academic skills are, the real test of any program in education is what happens out in the classrooms. So it's critical that your teaching certificate program include a strong emphasis on student teaching opportunities.
That means more than just piling up classroom time. That practice has to be accompanied by clear guidance and constant feedback, coming from both your professors and the instructors that you are working with in the field. Together they form a strong, unified front helping you tie your classroom instruction to your field experiences. This means giving you access to a wide variety of classroom experiences that help you develop a full-picture perspective on teaching in both urban and rural systems and at different grade levels. You should get a chance to practice your skills with different kinds of students and different materials, and to get a sense for your own strengths and aptitudes.
Reputation Earns High Marks
When we set out looking for the top schools in the TOLA region, we figured you wouldn't want to just take our word for it… while we have high standards, we're just one website, and the importance of diversity of perspective applies to what we do too.
But when you're looking at our list, you're not just relying on our assessment, because we also incorporated the perspectives of other independent, third-party evaluators in our considerations. These schools have drawn the attention of big, nationally-respected evaluators like The Princeton Review and U.S. News & World Report, not to mention major scholastic foundations like the Carnegie Foundation.
And just as important, we looked at variables that tell you how these programs are thought of on the local and regional level as well. We looked at graduation rates and job placement, things that tell you whether or not local school districts are eager to hire new teachers right out of these programs. We also considered the career trajectory that graduates experience… are they going on to work in administration? Getting noted in regional or national teacher recognition programs or earning awards? Those are all factors that tell you a school is delivering the kind of teacher certification experience that you should look for.
Unique Opportunities and Unmatched Learning Experiences On Tap
Finally, we gave extra marks for some of the hardest to measure factors in any education: the unique opportunities that a school can put in front of you that can entirely change the arc of your career or your life. You don't always even know what these things could be until you see them… a chance to take on a semester teaching overseas, maybe, or a special partnership with an inner city school that opens your eyes to opportunities in teaching you never considered before. Or maybe it's a special research program that no other school is pursuing right now, a chance to put yourself on the cutting-edge of a new development that can revolutionize the world of teaching.
We also picked out schools that foster communication and partnership in the teaching community, sponsoring conferences or summits that help bring the teaching world to you, pulling in interesting thought leaders from around the country for additional perspective and exposure. And we gave a second look to programs that are out there trying new things, offering concentrations you won't find anywhere else, or exploring hybrid learning styles that deliver the kind of flexibility that some students crave. These won't be the right answers for everyone, but it ups the odds that you will find the perfect fit for you somewhere on this list.
Top 35 for 2023: The Very Best Initial Teaching Certificate Bachelor's Programs in Texas, Oklahoma, Louisiana, and Arkansas
Our side-by-side evaluations of all the bachelor's in education teacher certification programs in the region come together to give you our take on which ones shine brighter than the rest. We are always objective in our approach to these evaluations with no particular favorites going into the process, but in the end what we provide you with is our own recommendations based on the points we feel make a program special.
Along with all that, we provide lots of practical info to help you in the decision-making process, noting things like tuition costs, all the available concentrations on offer, and whether or not the school is public or private.
We believe that somewhere on this list is the right teaching certificate bachelor's program for your goals: now you just have to make your choice and go for it!
Louisiana
Oklahoma
Texas
Arkansas