2023 – Top 20 Teacher Certification Bachelor's in Education Degrees in the Pacific Region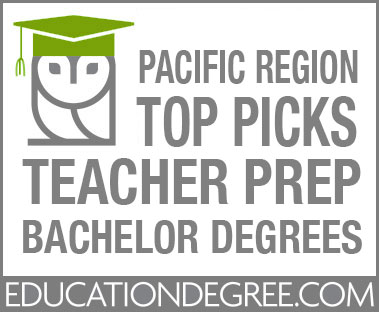 Choosing a school for your initial teacher prep bachelor's degree is a pretty serious decision that will shape the course of your entire teaching career. You're walking into this profession with a clear understanding of the impact that you can have on the lives of thousands of children over the course of that career. You'll be offering your part of the collective inspiration they get from their years in school to propel them to new heights… you'll be introducing them to all new information in the right way at the right time to expand their minds… and you'll be providing reassurance and encouragement at just the right moment to keep them on track.
So if you're on the West Coast or in Hawaii, and you don't plan on leaving, that means one of these twenty programs is going to be the right choice for you.
There's definitely a different vibe out here in spectacular sunset country—relaxed, but high-tech. Innovative, multicultural, and globally-minded, perched on the edge of the Ring of Fire, our schools are on the leading-edge in educational theory and opportunity.
You can tap into that excellence and excitement at any of these first-rate Pacific Region bachelor's programs. You'll learn from the best, be surrounded by excellence, and make the kind of local contacts you need to get the job you want after graduation.
How We Selected The Top Pacific Region Teaching Certificate Bachelor's Degrees in Education
It's no easy task to pick only the top 20 in a region with so many excellent teacher prep bachelor's programs. There are superb public and private colleges scattered all throughout California, Hawaii and the Pacific Northwest, perched on the coast and nestled behind mountains. They are truly world-class, having made globally-recognized research contributions, and connecting students to international study programs around the world. Narrowing it down to the top 20 is no easy task in such a group… but here's how we did it.
Programs With Only The Best Instructors
As a future educator, it's not going to be any surprise to you that our biggest consideration comes down to the instructors who are going to be teaching you how to teach. No one makes more of a difference in the education you get than the people imparting the knowledge you need and giving you the condensed version of their hard-won experiences.
At these schools, you'll find professors who are perfect role models for your own future as an educator: superb communications skills, an overwhelming command of the material, empathy and patience, and a quiet confidence in the ability of their students to absorb and master the subjects. They won't quit on you. You'll find them getting you through even the toughest material, in those moments when you're whipped and it feels like you'll never graduate.
And the retention rates at these schools reflect that. Instructors who go the extra mile to make sure students understand and absorb the lessons ensure that even the most rigorous curriculum won't discourage future teachers.
This kind of excellence is verifiable. The best instructors have the kind of real-world grounding in practical teaching experience that tempers theory with practice, and have helmed ground-breaking research, producing widely read scholarly articles and delivering presentations that administrators other teachers refer back to for years. That gives them a kind of authority that is hard to beat, and it's exactly that kind of thing you want to tap into for your own education.
Specialty Accreditation And Accolades for Academic Excellence
It should go without saying that the best teaching colleges have the best academic programs. We drilled down to find schools that have high standards and a tradition of graduating students who are not only employable, but highly sought-after.
Although not every school on the list has it and it wasn't considered critical in our assessment, we did give weight to Council for the Accreditation of Educator Preparation (CAEP)-accreditation when we saw it. Many superb schools don't hold this particular stamp of approval, but it really tells you that there is something special about those that do. The extra review by an organization that truly understands the ins and outs of modern teacher training is always a stamp of approval that is worth considering, and a number of these schools demonstrated they have the academic chops to pass the rigorous review process with flying colors.
Superb Community Connections and Student Teaching Options
Although many of these colleges have idyllic campuses with all the majesty and natural beauty people think of when they dream of the college experience, but more important are the resources they make available for aspiring teachers to tap into. First-rate facilities, research centers, computer labs, libraries and teaching labs all make a real difference in helping foster immersive, collaborative educational and research experiences.
That extends off-campus as well, where we looked for programs that offer diverse settings for your critical student teaching experiences. Everything from public to private school settings and both multicultural and socioeconomic diversity are on the table. Special needs classroom experiences and gifted teaching programs round out the experiential environments you can find, giving you a critical breadth in your training that will serve you well for your entire career, no matter where you end up teaching. And strong ties to local and regional school districts expand your network of contacts in the right places when it comes time to find a job.
Reputations That Resonate Nationally
The best schools can't help but get noticed. And that often means they receive glowing reviews from reputable sources that make it their business to rank and recommend institutions based on their own set of proprietary criteria. So the best schools often get raves everywhere from the Carnegie Foundation and The Princeton Review to Forbes Magazine and U.S. News & World Report.
It's not just on the media level, either. Take a look around at schools in your area… chances are, you'll find plenty of graduates from the  institutions right here on this list who are working and thriving there, and often advancing high into the administrative ranks. That's no accident—it's exactly what happens when you put together a first-rate education and experiences, and then turn those graduates loose in the workforce. And it leads to big alumni networks, giving you someone you can contact just about anywhere you might want to work.
That also means that having the name of any of these colleges on your CV can only help to get it moved to the top of the pile when it's hiring time.
Unique Opportunities And Experiences
Whether it's finding a school that runs its teaching certificate program on a cohort basis, keeping you together with the same tight-knit group of fellow students throughout your entire teacher training experience, or finding a program with a streamlined path to a master's in a sought-after specialization that you can immediately roll into after completing your bachelor's, there are dozens of highly specific characteristics to be found in schools that offer teacher training.
While we can't tailor the list for every individual, what we did do was look for colleges that offered those kind of unique options rather than just a cookie-cutter approach to initial teacher preparation and licensure. From hybrid programs that deliver classes both online and on campus to those that offer free access to statewide teacher's summits or prep courses for your credentialing exams, you'll find schools on this list with all kinds of opportunities.
Sometimes, the opportunities can be WAY off-campus… many of these schools also offer international learning experiences, which can really open your eyes and increase your value in the job market. With multicultural classrooms becoming more and more the norm in the U.S., it's never going to hurt to have some direct hands-on experience in other cultures yourself.
Your Guide to the Very Best Teaching Certificate Bachelor's Programs in the Pacific Region for 2023
Because student preferences and needs are so individualized, we have included a lot of other information that didn't factor into our selections, but which you may find useful as you look through to find your best fit. That includes all the subject areas covered at each school, whether or not it's a public or private institution, and the estimated cost per credit for obtaining a degree there. You can't make a final decision about the right school without digging in and doing plenty of research on your own, but we're confident that you'll find the important highlights you need right here to start narrowing it down.
So here it is – our top picks for the very best teaching certificate bachelor's programs in California, Hawaii, Oregon and Washington.
California
Hawaii
Oregon
Washington