How to Give an Effective Teaching Demonstration
Schools and districts use demonstration lessons (demo lessons) to judge a job applicant's knowledge of effective teaching, classroom management, and professional behavior. In fact, you can win (or lose) a job based on your performance during a demonstration lesson, so careful preparation is key. Below, I take you through how to plan and teach a successful demo lesson.
What is a Teacher Demonstration lesson?
A demonstration lesson is simply a planned lesson taught to the interview committee or a group of students. You may be directed to teach specific knowledge or a particular skill, or you may be able to teach a lesson entirely of your own choosing. Job applicants could be asked to teach a 15-minute lesson to the interview committee or to teach a 45 to 60 minute lesson to a class of students. Sometimes, the interview committee may provide time after the lesson to reflect with you on how it went as well.
What Do Employers Evaluate During a Demonstration Lesson?
Employers judge qualities related to effective teaching. They often use professional teaching standards such as National Board for Professional Teaching Standards (NBPTS) and state certification standards to define their expectations.
Mastering the Demo Lesson to Win a Teaching Job
Here are five important criteria and the indicators that employers are likely to use to evaluate your demo lesson.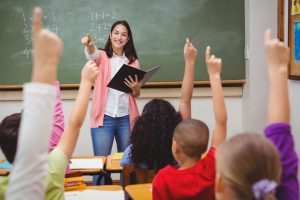 1. Organizes and delivers a purposeful lesson.
Today's teachers face high demands for accountability and raising achievement of all learners. There never seems to be enough time in the school day to cover everything. Effective teachers need to be well-prepared, well-organized, and purposeful in their instruction.
Indicators:
Provides a copy of a formal lesson plan for all committee members.
Conveys a strong sense of purpose and knows the lesson well.
Has a clear beginning, middle, and end to the lesson.
Aligns learning outcomes with standards for learning.
Assesses students informally during the lesson.
Sequences planned learning experiences with a timetable.
Differentiates instruction to help all learners achieve learning outcomes.
2. Responds to all learners.
Effective teachers recognize the wide range of needs of diverse learners in the classroom. They use knowledge of how their students learn along with their students' individual interests, strengths, challenges, language, cultural backgrounds and developmental needs to mold their lessons. In addition, effective teachers collaborate with other school personnel in teaching students with special needs.
Indicators:
Begins the lesson by getting to know the learners, building rapport, and pre-assessing.
Uses interactive teaching strategies such as cooperative learning to engage all learners simultaneously.
Checks for understanding periodically.
Uses effective "question and response" methods to develop student thinking and interaction.
Causes students to think in different ways (e.g., includes lower and higher level questions).
Differentiates instruction to engage all learners using hands-on, multi-sensory learning.
Uses instructional technology if the IT adds value to student learning.
Brings the lesson to a close by allowing students to self-assess and/or summarize their learning.
3. Manages individual learners and the whole class.
Effective teachers create the conditions for a safe, productive learning environment. They have a plan for a well-managed classroom, based on a learning community, structures, routines, and clear expectations and instructions.
Indicators:
Quickly sets several "ground rules" for successful learning (e.g. respect, safety, responsibility).
Provides clear instructions and expectations.
Makes smooth transitions from the whole class to small groups.
Paces the delivery of the lesson appropriately.
Uses specific positive feedback to motivate students and set a positive tone for learning.
4. Reflects and makes adjustments in the moment of teaching.
Effective teachers work from a well-conceived plan of action. However, during instruction they should monitor their students' learning and make changes to their lesson plans as needed.
Indicators:
Uses results of formative assessment to make instructional decisions.
Is flexible, yet maintains a focus on the purpose of learning.
Changes directions if students aren't achieving learning outcomes.
Re-teaches if it's clear students are confused or need more information.
5. Self-assesses and thinks critically.
Effective teachers are "reflective practitioners." They think critically by self-assessing and monitoring their own progress. They relate standards, theory and research of teaching to their teaching. They problem solve and analyze situations to deliver the best possible lessons.
Indicators:
Explains two or three things that worked well to help students achieve the learning outcome.
Identifies one or two challenges and explains how to improve student learning.
Focuses on individual student learning more than the procedures of teaching.
Uses assessment information to improve instruction.
Refers to results of informal assessments.
Requests feedback from the committee and listens to it carefully.
Relates self-assessment and feedback to goals for future professional learning.
Author: Professor MacGregor Kniseley, Ed.D. began his 35-year career in education as a teacher employed in non-school environmental education programs. He taught for 10 years in elementary and middle schools and since 1990, has been a professor of elementary education at Rhode Island College. He is the author of "The Guide to Winning a Teaching Position in Any Job Market," based on the workshop he leads of the same name. Teacher candidates learn about the job search and hiring process along with how to develop cover letters, resumes, hiring portfolios and their interview skills. For more information, view Professor Kniseley's blog at http://www.winateachingjob.com.