Ed.D. vs. Ph.D.: What's the Difference?
Reviewed by Jon Konen, District Superintendent
In essence, the primary difference between a Doctor of Education (Ed.D.) and a Doctor of Philosophy (Ph.D.) is that an Ed.D. focuses on practical skills, while a Doctor of Philosophy (Ph.D.) focuses on theory and research.
Those pursuing an Ed.D. typically want to work in education leadership roles, so they perform hands-on work while pursuing their degrees. Ph.D. candidates usually hope to work in educational research and high-level education, so they perform a lot of literature reviews and other types of academic study. However, both involve practical and theory-based work.
Do you want to earn a doctorate in education but can't decide which type of program to choose? Then, look no further for the answers to your questions.
Here, we'll discuss the difference between an Ed.D. and Ph.D., including the careers they're both geared toward, what their respective course schedules look like, how long they take to get, and more.
<!- mfunc feat_school ->
Featured Programs:
Sponsored School(s)
<!- /mfunc feat_school ->
What Is an Ed.D.?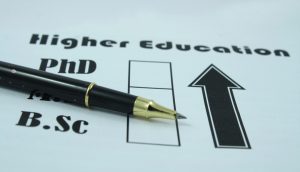 If you are working towards your Ed.D., your curriculum will likely be geared towards solving on-the-ground problems in the educational system.
Projects for Ed.D. programs often include participating in workshops and research in the community, up to implementing a program in a classroom and reporting the findings. Specific coursework is determined by the area you specialize in. For instance, if you're focusing on creating best practices for special education, you'll likely spend time working in various special education rooms.
What Can I Do With an Ed.D.?
Those with Ed.D. degrees often seek positions in administration or community or district-wide leadership, seeking to improve schools and other educational resources in their communities.
If you choose to pursue the Ed.D. route, you may also choose to specialize in different leadership tracks such as:
Educational Technology

: Instructional technologists help create programs for classrooms, teach district leaders and educators how to best implement digital resources, and more.

Education Policy

: Education policy jobs involve helping officials to create policies that further and benefit education at the local through national levels.

School or District Leadership

: Principals and superintendents aren't generally required to have doctorates, but the degrees can make them stand out among the crowd.
Salaries and Job Growth for Common Ed.D. Careers
There are many possible careers with Doctor of Education degrees, but salaries for the most common include:
Educational Technologists: Average base salary of $64,125 per year; growth unavailable
Education Policymakers: Median salary of $125,350 per year (inclusive of all political scientists); 9% growth 2020-2030
School or District Leaders: Median salary of $98,490 per year (inclusive of all administrative positions); 3% to 4% growth 2019-2029
What is a Ph.D. in Education?
A Ph.D. in education focuses on conducting research that enhances the profession and educational system. Most people with this doctorate spend some time working as a professor or postsecondary administrator.
Ph.D. in education programs generally require courses in research, independent study, and best practices, culminating in a dissertation.
That said, teaching-related internships and research are often needed.
What Can I Do With a Ph.D. in Education?
With a Ph.D. in education, you will usually seek employment as a college professor or educational researcher. This means you should want to teach and conduct research at the collegiate level. While some people can ultimately focus their efforts on research, being asked to teach is common.
While both Ed.D. and Ph.D. programs allow many of the same specialties, some more common with Ph.D. programs are:
Adult Education

: Adult education can mean college professors in the traditional sense or working with nontraditional learners on earning their GEDs.
School Psychology: This program may be offered through a college's education department or psychology department. It allows you to provide in-depth psychological services to students and families.
Specific Subjects: You can focus on an academic subject you like most, such as math, language arts, history, special education, or even art and physical education, allowing you to create best practices for teachers, teach college students in the subject, research the psychology behind best practices, and work as a K-12 classroom teacher or teacher leader.
Salaries and Job Growth for Common Ph.D. in Education Careers
No matter the specialty, many Ph.D. holders work in college classrooms and administration. The salaries and job growth estimates for those areas are:
Postsecondary Teachers: Median salary of $80,560 per year; 12% growth between 2020 and 2030
Postsecondary Education Administrators: Median salary of $97,500 per year; 8% growth 2020-2030
Similarities Between Ed.D. and Ph.D. Degrees
Both a Ph.D. in education and an Ed.D. are intended to extend a teacher's knowledge and ability in education. Each requires research in your intended field and the defense of a dissertation, capstone project, or other comprehensive final exploration of a topic.
You can refer to yourself as "doctor" whether you have a Ph.D. or Ed.D. However, you should be aware of the context in which you're using it since almost everyone associates the term with medical doctors. In your classroom? Go ahead! In a place where it could be confusing? Consider leaving your title at home.
While common career paths were named under both the Ed.D. and Ph.D. sections above, you aren't barred from entering those careers with the other doctorate. While it's more common, for instance, for someone with an Ed.D. to work hands-on in the schools, someone with a Ph.D. can definitely do that too.
Some doctoral programs allow you to pick an area to specialize in, while others only enroll students for specific types of specialties. It's rare for a student not to specialize—to work as a doctor in education, you need to have a particular area you're passionate enough about to want to focus your studies on it.
Common specialization tracks for both degree types can include:
Curriculum, Instruction, and Learning
Leadership
Special Education (SPED)
Teacher Leadership
While you can have other degrees in all those specializations, doctoral degrees allow you to make bigger picture decisions.
For instance, someone with a master's in ECE may serve as a consultant or manager of an ECE center, while someone with a doctorate is more likely to work at the policy level to ensure a community's early childhood education goals are met. (If you want to teach ECE and not work in those levels, consider an associate or bachelor's degree in the field, as those are typically all you need.)
Is Getting a Doctoral Degree in Education Worth It?
Getting a Ph.D. in education or an Ed.D. is worthwhile for some people and not for others. Here are some pros and cons to consider when deciding to pursue a doctoral degree in education:
Doctoral Degrees in Education: Pros
Prestige: Getting a doctorate impresses many people.
Additional Career Opportunities: Some careers that education-focused doctors can have are open to those with master's degrees, but many (such as professors at major universities) often require doctorates.
Research: Doctoral candidates and doctors in education often have more resources for researching their chosen field.
Doctoral Degrees in Education: Cons
Potentially Harder to Get Some Jobs: If you want to work as a teacher in a K-12 school, you'll likely be at the high end of the pay scale. If you decide to switch to a new school or district, you could find it hard to gain employment since you're more expensive to hire.
Price: Without a significant scholarship, doctoral degrees are often costly.

According to the National Center for Education Statistics, the most recent data on the cost of a graduate education at a public university shows the average to be $11,926 per year.
At a private university, you're looking at an average of $25,442 per year.

You May Not Need One: Before committing the time and money to a doctoral degree in education, be sure you need one. In some cases, the costs outweigh the benefits.
Ed.D. vs. Ph.D.: Which is Right for Me?
Both doctoral degrees in education can lead to professional advancement. The two primary factors to consider are how much time you have to spend in school and what your careers goals are:
Time in School: You should generally expect your D. in education to take between four and six years, depending on a few factors that will play out after you get started. An Ed.D. usually takes approximately three years.
Career Goals: An Ed.D. involves more of a practical application of what you're learning. You learn by doing and should want a career where you're actively involved in education. Meanwhile, a D. in educationinvolves more theoretical and research-based work. You should favor jobs in research and development but also be comfortable teaching in a postsecondary environment.
Your Path to a Doctorate in Education
If you're beginning to explore careers in education, you may have made it to this page as part of figuring out the path to your ideal career in the field. Remember: No matter what, you need a minimum of a bachelor's degree to pursue a doctorate in education. Depending on the requirements of the programs that might be offered at your school of choice, you may also need a master's degree.
However, if you're getting ready to enter a specific job that requires a doctorate, it's time to explore doctoral programs in your state or online.
Whether you choose an Ed.D., Ph.D., or choose to remain at the bachelor's or master's degree levels, a career in education—even one that seems a bit outside the box—means you're likely to change lives. We at EducationDegree are here to help with our wealth of articles and other resources to set you up for success.
(Salary data reported by the U.S. Bureau of Labor Statistics in May 2020 for teachers and administrators. Figures represent national data, not school-specific information. Conditions in your area may vary. Information accessed October 2021.)