What is the Difference Between a Teacher and a Professor?
Many students use the terms 'teacher' and 'professor' without stopping to think about what separates these terms from each other. Are you asking yourself: "What is the difference between a teacher and a professor?" If so, we will break down the differences between the two in the following sections of information.
What is the Biggest Difference Between a Teacher vs. Professor?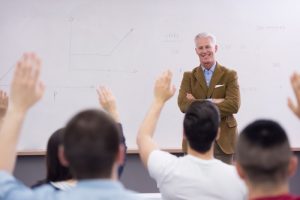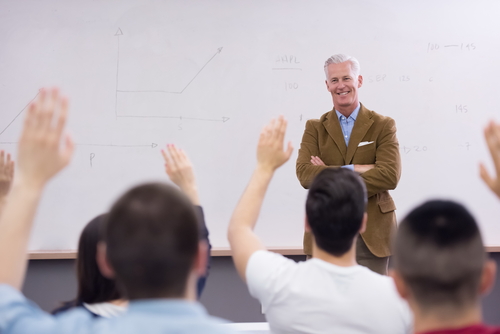 In the simplest terms, professors are college and university level instructors who typically have their doctorate level education. These professors have achieved the highest level of education in their field, and earn the title Dr. in front of their name, instead of the plain old Ms. or Mr. that most of us are stuck with.
Now, let's back up a moment. Just because you want to teach at the college level doesn't mean you have earn your PhD in Education. If you are a specialist in your field, and earn your graduate level education, you can teach at the college level. Your state will have its own requirements for licensure that you will have to follow. Colleges that offer graduate level degree programs in education for students in your state can answer any questions you have about licensure. Just keep in mind that if you want to be referred to as 'Professor,' or 'Doctor,' you'll need to earn that PhD or Doctorate degree in Education!
Types of Teachers Jobs
There may be more subjects taught by professors at the college level, but the scope of teacher careers stretches far and wide. Pre-K/programs/early-childhood-education/, elementary, middle and secondary schools need quality teachers for all subjects. Additionally, teachers can specialize in such areas as English as a second language and special education. You can typically become a teacher with your bachelor's degree, a passing score on your state's exam, and other requirements, such as a background check.
If you are just starting out in your college level education, and want to teach, a degree in education is your best bet. Students with the bachelor's in another area may need to complete a certification program, plus meet the same state requirements as other teachers.
Types of Professors at Colleges and Universities
There are so many types of professors that teach in today's academic settings. Why? Because innovations in healthcare, technology, and many other fields require more specialized training than ever before. If you have years of experience in most any field or industry, you can pursue teaching at the university level.
Many types of professors are subject experts as well. These instructors have spent years researching and studying their area of expertise. This can be an artistic field, such as music, theater or film. Or, professors may be historians or teach philosophy or political science. Individuals with an interest or devotion to a particular religion may earn their PhD to teach advanced level courses in a university setting.
Teacher vs. Professor Salary & Job Outlook
The answer to the question, 'what is the difference between a teacher and a professor,' extends into salary and career outlook as well. While you should follow the path that you are most passionate about in teaching, it helps to understand the job landscape. The Bureau of Labor Statistics (BLS) breaks down the teaching profession for us with data that is credible. To get an idea of what a teacher vs. professor salary may be, let's look at what they say…
Elementary & High School Teacher Salary and Outlook
Since elementary and high school teachers make different salary levels, we will take a look at both. From there, we can compare these types of teachers pay levels to professor salaries at the college level. The BLS says that in 2015, kindergarten and elementary school teachers earned an average salary of $54,550. The average growth for these occupations between 2014-2024 is expected to be 6%. This is as fast as the national average.
High school teachers earned a little more on average, according to the BLS. The average salary for these jobs was $57,200 in 2015. The anticipated growth for the period 2014-2024 is also 6%. This seems to prove that the growth and opportunities for teachers will keep up with overall population growth.
The salary you receive as a teacher can also depend on what kind of subjects you teach. If you become a special education instructor, for instance, you might earn a higher salary. When you speak with schools about education programs, ask which kinds of teacher jobs are in-demand.
Professor Salary & Career Outlook
Now, let's compare teacher salary and job growth to those who work in professor positions. When you compare the data from 2015, it's easy to see why teachers decide to earn their PhD level degree. The average salary for postsecondary educators, which typically require a doctorate education, was $72,470 in 2015. The potential job growth may have something to do with it as well. Between 2014-2024, the BLS predicts job growth for professors to grow 13% – over double the national average for teacher positions.
According to a report conducted through Georgetown University, the recession of 2008 might be a big reason why there is such anticipated growth for professor all types of professors in the coming years. Where you live will also impact what types of teachers and professor career opportunities are available to you. Some communities have large school districts, while others are located within commuting distance of several colleges.
As you can see, "what is the difference between a teacher and a professor," isn't difficult to answer. But it's a topic that requires explanation, no different than mapping a career path in education. It all starts by asking lots of questions to people who understand teacher and professor education.